Transcript of Warren Buffett's visit at Midland Lutheran College in February 2000.
The following article contains the story and the photo that appeared in the revue of the Midland Lutheran College : "Observations" in spring 2000.
Before reading this article, let me thank these persons for giving me the permission to publish their work on my website :
Ms Cathy Tibbels (Director of Public Relations of Midland Lutheran College) for writing this good article,
Dr. Jennifer Braaten (The Midland President) for having invited Mr Buffett,
and Mr Chris Bristol (Coordinator of printing and publications) for the photo.
By the way, if you want to support Midland Lutheran College financially, you may contact them at this address: http://www.mlc.edu/. Thank you.
"Omaha billionaire Buffett visits Midland"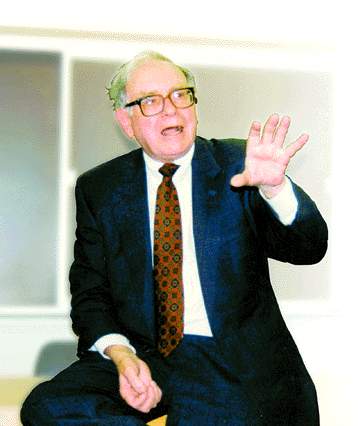 "To be loved, you gotta be loving."
"You have to set objectives for what you want to achieve in life."
"The beauty of investing is that you don't have to have good ideas, you just have to be able to recognize good ideas."
"We live our lives forward, but judge them backwards."
Omaha billionaire Warren Buffett sat cross-legged on the edge of a desk in Anderson 304 and chatted casually with a group of more than 100 students at Midland Lutheran College Feb. 21 2000, peppering his comments with sage words of advice and humor. During the hour-long class, the 69-year-old chairman and chief executive officer of Berkshire Hathaway explained his philosophy of life and success, challenged the students to examine themselves and who they want to become, answered their questions and made jokes.
"What do you think will happen to the value of your stock when you retire?" inquired Shannon Bottorff, a senior accounting major from Sioux City, Iowa. "I'm gonna retire about 10 years after I die," Buffett replied, straight-faced, to the laughter of the audience. "I gave all the directors Ouija boards so I can keep in touch." He then offered a more serious answer.
"Among the directors, there are several people who can do what I do. There will be no problem at all in succession. The directors know my thoughts." He indicated that two people would probably replace him - one to handle capital allocations and the other to handle operations.
"I'll tell you this: If the stock goes down the day I die, it's probably a good buy. If it goes up, I'm really gonna be sore!" Buffett said, drawing more laughter. He addressed his wealth this way: "I consider myself ungodly lucky. I won the lottery. "You people in this room are lucky. You had a 1-in-30 chance of being born in the United States," Buffett said. "In 1930, when I was born, I had a 1-in-50 chance of being born in the United States. I had a 50 percent chance of being born male. And I had a 1 percent chance of being born male in the United States."
Buffett said he was lucky, too, that he was born in a time when capital allocation, the basis of his business, was important.
"My friend, Bill Gates, said if I'd have been born 1,000 years ago, I would have been some animal's lunch," he said, laughing aloud with his audience. He talked about success saying "success is determined by how you feel about your life 50 years from now."
"The thing you do not realize is how important your habits are in determining your behavior," he said. "You're all at an age where you can have any habit you want." He then asked them to do a simple exercise some time after the class.
"On a sheet of paper, write down the names of three students you admire the most; also pick two or three teachers and two or three other people," he said. "On the other side, write down the names of two or three people you can't stand. Then, under each name, write the reasons why you do or don't admire them. What qualities cause you to admire or trust them? What qualities, behaviors and characteristics turn you off?"
He listed four qualities he finds admirable: trustworthiness, honesty, generosity of spirit and physical generosity. He considers envy the worst of all sins because it makes life unpleasant immediately.
"You'll find that the qualities of character and behavior can be achieved by anyone," he continued. "There is nothing God-given in the behaviors or attributes that cause you to admire someone. The same is true of the qualities of (those you don't admire). They are not born in you. They are habits.
"Behave like the people you admire and life will change for you. You can get rid of the negative qualities you see in yourself. Do this now and, in a few years, you'll have your own name on someone else's list."
He said he has been very lucky that he's had the right heroes including his late father, Howard Buffett, and his wife, Susan.
"Never in my whole life have I seen my dad or my wife do anything that couldn't be put on the front page of the newspaper, written by an unfriendly reporter," he said.
These same characteristics and behaviors translate into business skills, he said. "You really do get back what you give in this life. That's the most basic rule. It's not very complicated. Ethics are important - particularly in business."
He told the students that they may determine their framework for ethics through dogma, accepting from a religious source a code of behavior, or through reason. He asked them, again, to "play a little game with me."
He asked them to imagine that it was 24 hours before their birth and a genie came to them with the following proposition:
"'You look like a bright prospect,' the genie would say, 'I'm going to let you set the rules of the society in the world you will enter in 24 hours. That's going to be it. You'll determine what the social, political and economic rules will be.' "'What's the catch?' you'll want to know.
"The catch is that you don't know whether you're going to be male or female, rich or poor, able bodied or infirmed, black or white, born in the United States or Bangladesh. You have to reach into the ovarian ball and pick one out.
"What kind of world would you want to emerge into when you don't know what ball you're gonna get?" Buffett asked the students.
"What is a just world?" he asked. "I think the better answers coincide with the views of most religions. I'm not here to give the answer."
He said he hoped the system would be such that it would allow talent to rise to the top, but would also provide all people with the chance to meet their potential.
"We want to keep people with talent working long after they have enough money to quit," Buffett said, "to continue producing for the benefit of others."
Buffett came to Midland at the invitation of Midland President Dr. Jennifer Braaten who began corresponding with him last fall.
***
Final note:
You can read another article of Buffett's visit here: http://www.mlc.edu/NewsSports/news/buffett.html